Applied Mindfulness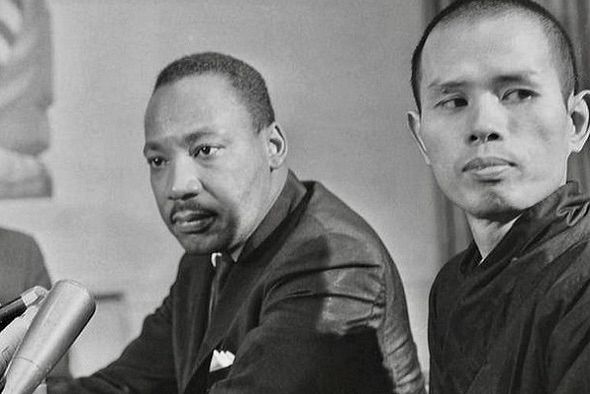 In the description of this blog, I use the term "Applied Mindfulness". I thought it would be useful to discuss this term and why it is the type of mindfulness I practice as part of my journey in arriving home.
I plan to update this page as I write more about Applied Mindfulness, but for now I've copied below my post from Jan 20, 2023.
---
Background
This page draws from Dr. Elli Weisbaum's PhD dissertation, my chats with her, and my experience with the Plum Village dharma school. Whenever there are references in the quotes from Elli below, I have included those at the end of this post in addition to all of my references.
Elli is currently based at the University of Toronto as an Assistant Professor (teaching stream) in the Buddhism, Psychology and Mental Health program (BPMH), with a cross-appointment to the Dalla Lana School of Public Health in their Institute of Health Policy, Management and Evaluation (IHPME). She completed her PhD through the Institute of Medical Science (IMS) in the Faculty of Medicine at UofT, with a focus on applying mindfulness to physician wellbeing. Her work draws upon research from the fields of neuroscience, education, healthcare, and the workplace to examine how the scientific evidence base for mindfulness is being integrated and operationalized across key sectors of society. She attended her first retreat with Zen Master and Nobel Peace Prize nominee Thich Nhat Hanh at the age of ten and has continued to train with his international Plum Village community.
Elli and I also happen to be married. Elli and her parents also introduced me to Plum Village (PV) practice by taking me to my first retreat with Thich Nhat Hanh in 2011. Following that retreat, Elli and I went on several teaching tours for the next few years with small groups of PV dharma teachers. During this time, we deepened our practice and learned to live, play, practice, and teach with them.
Elli's dissertation, which she completed in 2021, is titled: Applied Mindfulness for Physicians: a prospective qualitative study. It's published by the University of Toronto on PropQuest Dissertations Publishing, citation below:
Weisbaum, E. (2021). Applied Mindfulness for Physicians: a prospective qualitative study(Doctoral dissertation, University of Toronto (Canada)).
To date, Elli has also published two short research articles that pull work from her dissertation. They are available publicly – references and links below. These two articles were not published with the intent to specifically describe Applied Mindfulness, but there are sections in each that are relevant to it.
Weisbaum, E., & Chadi, N. (2022). Applied Mindfulness for Physician Wellbeing: A Prospective Qualitative Study Protocol. Frontiers in Public Health, 10. doi:10.3389/fpubh.2022.807792
Weisbaum, E. (2022). Operationalizing Mindfulness Across Education, Healthcare & the Workplace: Strategic Approaches for Developing Wellbeing Amidst the Challenges of Covid-19 and Beyond. Journal of Health Administration Education, 38(4), 975-1000.
She has lots of other published work, and there are more short articles based on her thesis work coming soon. I'll surely post about them when they are available.
The Term Applied Mindfulness
The term Applied Mindfulness is from the Plum Village community of scholar, poet, and Zen master Thích Nhất Hạnh (he's called Thay for short, which means teacher in Vietnamese). The use of the word applied is quite intentional and was established by Thay in his later years of teaching. He passed away in 2022 and his work continues through the teachers in Plum Village, many of whom I reference on this blog.
I use the word mindfulness rather than Buddhism, even though the practices and teachings I describe have roots in Buddhist practice. This is purposeful. In this video, Thay himself said that they try to "avoid the use of the word buddhism" in Plum Village, in part because so many folks from a wide variety of backgrounds and cultures come to Plum Village to practice. It does not need to be religious, and Thay encourages folks that practice with Plum Village to continue connecting to their roots.
In my previous post about Brother Phap Dung's talk given on Dec 31, 2022, you can find a brief discussion of his sharing that Plum Village practice is not a religion. He describes it as a path, that we walk to improve ourselves.
Sister True Dedication (translated from the Vietnamese, Sister Hiến Nghiêm), a senior Plum Village teacher who worked as a journalist for the BBC before entering the monastery in 2008, describes Plum Village practice as a training. She says, on episode nine of The Way Out Is In podcast, that "it's not religion, it's practical" (8 min). She continues:
We are training in really practical skills that we can then take back to our life outside the monastery.
That episode of the podcast is on "Engaged Buddhism", and yet Sister True Dedication, and the hosts of the podcast, frequently use the word applied when discussing mindfulness practice. For more from Sister True Dedication, definitely check out the podcast, and I'd also highly recommend a TED Talk she recently gave titled: 3 questions to build resilience – and change the world.
On a personal note, I tend to gravitate towards the word mindfulness rather than Buddhism. I was raised Jewish and consider myself culturally Jewish, but I am not a religious person. I have been in some Buddhist spaces that didn't feel totally comfortable for me in that regard. I have never felt that in Plum Village. It doesn't really matter to me what word I use to describe it. I simply look for practices, language, and insight that help me live my life happily in an intentional way and (re)connect with myself and others. While Plum Village is not the only place I look to for this, it is one of the main places I find helpful in my life.
An evolution of the word "engaged"
The word applied is an evolution of Thich Nhat Hanh's thinking. Before using applied, Nhat Hanh used the word engaged to describe his style of practice.
From page 29 of Elli's dissertation, as she introduced the term "Engaged Buddhism":
This term was coined by one of the foremost contemporary Buddhist teachers – Zen Master, scholar and Nobel Peace Prize nominee Thích Nhất Hạn (Harrington & Dunne, 2015; Maex, 2011; Queen & King, 1996; Weisbaum, 2018).
One of Thích Nhất Hạn's first published use of the phrase Engaged Buddhism was in a series of articles with the title "A Fresh Look at Buddhism" published in 1954, within which he proposed and discussed the application of the practice within the realms of education, economics, and politics (Nhat Hanh, 2008).
Thich Nhat Hanh's Roots
Thich Nhat Hanh was born in central Vietnam in 1926, and he entered the monastery as a novice monk at the age of 16. Much of his career was spent renewing buddhist practice and at the same time engaging with the challenges of the world. When he was a young monk in Vietnam, he was surrounded by war. He chose to both continue to practice in the monastery and to go out into the country to help people in war torn villages. In the early 1960s, he founded the School of Youth and Social Service, a grassroots relief organization of 10,000 volunteers based on the Buddhist principles of non-violence and compassionate action. In 1966, he travelled to the US to call for peace in Vietnam. During that trip, he met Dr. Martin Luther King, Jr., who later nominated him for the Nobel Peace Prize in 1967, describing Thay as "an apostle of peace and nonviolence". The featured photo of this blog post is of Nhat Hanh with Dr. Martin Luther King, Jr.
The practices and teachings of Plum Village are rooted in action and application. They are practical trainings to help people.
Below are some words from page 30 of Elli's dissertation:
From a close reading of their book (Queen & King, 1996), and Thích Nhất Hạn's lifetime body of work, the use of the term "engaged" can be thought of as referring to the intention of being both actively engaged in personal daily practice and socially engaged in wider systemic change. This type of engagement aims to create the conditions for transformation and healing at the level of both the individual and system of which they are a part.
The term applied is used to highlight his intention for the teachings to be practically applied and integrated into contemporary sectors of society, with the aim to address and handle suffering through compassion and understanding (Nhat Hanh, June 21, 2009).
Elli's PhD Monastic Advisory Committee
While Elli was completing her PhD, she established a Monastic Advisory Committee (MAC) in collaboration with the Plum Village community "to inform the rigorous and authentic use of Thích Nhãt Hanh's work" (Weisbaum & Chadi, 2022). She had 4 senior teachers from Plum Village who provided guidance and feedback throughout her PhD journey. They were Brother Pháp Hữu, Brother Pháp Dung, Brother Phap Linh, and Sister Hiến Nghiêm. Brother Phap Linh specifically encouraged Elli to use the term applied when describing the type of mindfulness she delivered to the physicians in her study. In fact, he gave her the transcript of a talk from 2009 in which Thay discussed the word applied (this talk is quoted below). To learn more about her study, take a look at the protocol paper that Nicholas Chadi co-wrote with her in 2022.
The monastics on her MAC approved of the name Applied Mindfulness, which is in the title of the 5-week mindfulness intervention that she designed and studied in her PhD. The mindfulness intervention uses Thay's teachings as the basis for it's content because of their focus on:
(1) the pragmatic application of mindfulness into daily life to underpin the cultivation of personal wellbeing; and (2) impacting both individual and systemic change. (Weisbaum, 2021, p. 2)
Thich Nhat Hanh's 2009 discussion of the shift from engaged to applied
In this talk by three of Elli's PhD committee members, Brother Pháp Hữu, Brother Phap Linh, and Sister Hiến Nghiêm talk about Thich Nhat Hanh's history and Applied Buddhism. During it, they show a short clip from the 2009 talk referenced in Elli's dissertation. On page 129 of Elli's dissertation, she quotes it:
"It helps you to address the suffering within you and the suffering around you in a continuous and engaged way. You learn how to practice mindful breathing to help care for a child who has been wounded by the guns or the bombs. Because if you don't practice during the time you serve, you will lose yourself, you will burn out, and that is not Engaged Buddhism. So Engaged Buddhism is born in such a difficult situation, where you want to maintain your practice while responding to the suffering." (Nhat Hanh, June 21, 2009).
Elli again quotes Thay in her dissertation (page 129), to illuminate his thinking behind the transition to the word applied:
"The word 'applied' has been used in many areas, like applied mathematics, applied science. So, in Buddhism, there is something that can be applied in every circumstance--in order to solve the problem, to shed light on the situation. We know the way in order to handle a specific situation. To handle (the situation) in such a way that suffering can be relieved. And the way you handle (it) should be the way of compassion and understanding. And that is the essence of Applied Buddhism." (Nhat Hanh, June 21, 2009).
My personal practice and application
Everything I write about on this blog, I have found useful and practical in my own life. I hope that much of the content I write here can also be useful for you, dear reader. Elli likes to tell a story of one of her undergraduate students, who described Buddhist psychology as having the goal of being useful rather than an accurate description of reality.
Rather than accuracy, it's about utility.
So, as I describe different Applied Mindfulness practices and concepts throughout this blog, I would encourage any reader to consider how it applies to their own life.
Find what is useful for you right now and let go of the rest.
Don't take my word (or that of anyone I reference) at face value. Go and try it out in your life. To use the language of science: collect some data on yourself, analyze it, and find your own conclusions. Base what and how you practice on your lived experience. This is the spirit of Plum Village and Thich Nhat Hanh.
On page 112 of Elli's dissertation, she quotes Nhat Hanh:
Truth cannot be borrowed. It can only be experienced directly. The fruit of exploration, suffering, and the direct encounter between one's own spirit and reality — the reality of the present moment and the reality of ten thousand lifetimes. For each person, it is different. And it is different today than it was yesterday. When we discover something to be true today through our own direct experience, we will see that our previous assumptions were wrong, or at least incomplete. Our new way of looking transcends yesterday's desire, prejudices, narrow-mindedness, and habits… When we attain a new understanding of reality, it is impossible to accept things we know to be false. Our actions will be based on our own understanding, and we will follow only those rules we have tested through our own direct experience. (Nhat Hanh, 1999, p. 65)
Everything I practice, I do so because of my own experience with it. I also have deep trust in the senior teachers of Plum Village, in part because I have applied much of what they teach in my own ways. I have observed that it has improved my life. I have also lived and travelled with many of them over the years, and I've seen first hand the fruits of their teaching.
I aspire to continue this work with this blog. I hope that you, dear reader, find it useful and applicable in your own life.
---
As you like, please review the resources page of this site where I am collecting all the links, resources, and references from every page and post (including the ones below).
---
References
Dr. Elli Weisbaum's dissertation
Weisbaum, E. (2021). Applied Mindfulness for Physicians: a prospective qualitative study(Doctoral dissertation, University of Toronto (Canada)).
Elli's published articles based on her dissertation
Weisbaum, E. (2022). Operationalizing Mindfulness Across Education, Healthcare & the Workplace: Strategic Approaches for Developing Wellbeing Amidst the Challenges of Covid-19 and Beyond. Journal of Health Administration Education, 38(4), 975-1000.
Weisbaum, E., & Chadi, N. (2022). Applied Mindfulness for Physician Wellbeing: A Prospective Qualitative Study Protocol. Frontiers in Public Health, 10. doi:10.3389/fpubh.2022.807792
Thich Nhat Hanh and Plum Village
What Is Applied Buddhism | by Thich Nhat Hanh, 2014 06 03 (Plum Village, France)
The Way Out Is In / Engaged Buddhism: Applying the Teachings in Our Present Moment(Episode #9)
Active Response to Suffering | Brs. Phap Huu, Phap Linh, Sr. Dedication | 2022 10 02 Rains Retreat
References pulled from Elli's dissertation
Harrington, A., & Dunne, J. D. (2015). When mindfulness is therapy: Ethical qualms, historical perspectives. Am Psychol, 70(7), 621-631. doi:10.1037/a0039460
Maex, E. (2011). The Buddhist roots of mindfulness training: a practitioners view. Contemporary Buddhism, 12(1), 165-175. doi:10.1080/14639947.2011.564835
Nhat Hanh, T. (June 21, 2009). 21-Day Retreat, Final Talk. Plum Village, Lower Hamlet: France.
Nhat Hanh, T. (2008). Dharma Talk: History of Engaged Buddhism. The Mindfulness Bell. Retrieved from https://www.mindfulnessbell.org/archive/2015/02/dharma-talk-history-of-engaged-buddhism-2
Nhat Hanh, T. (1999). Fragrant palm leaves: Journals, 1962-1966: Penguin.
Queen, C. S., & King, S. B. (1996). Engaged Buddhism: Buddhist Liberation Movements in Asia. Albany NY: State University of New York Press.
Weisbaum, E. (2018). Thich Nhat Hanh. In J. A. Palmer & D. E. Cooper (Eds.), Key Thinkers on the Environment. New York, NY: Routeledge.