Finding Our True Home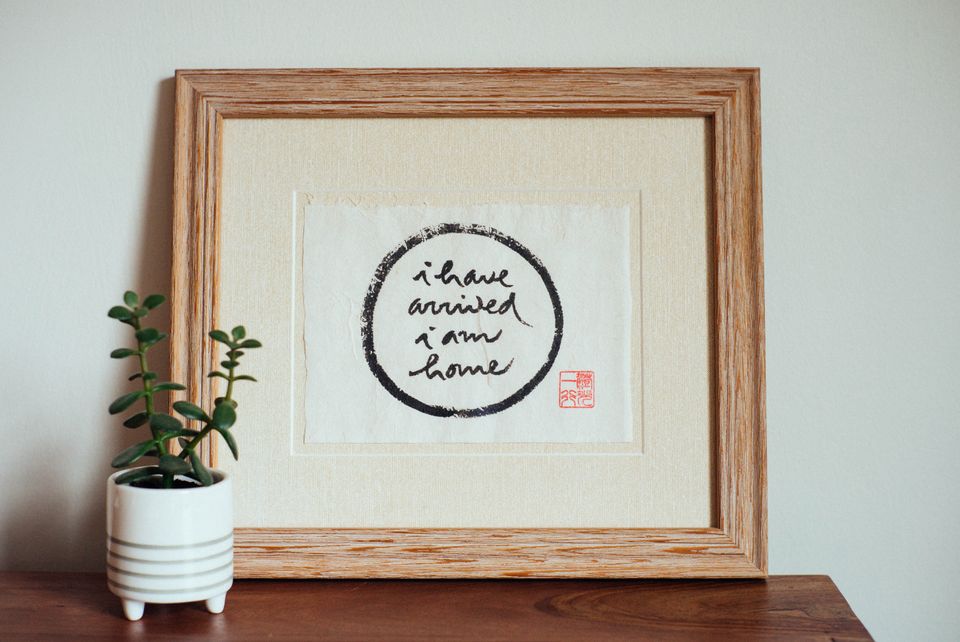 It seemed natural to start by hearing what Thich Nhat Hanh (Thay for short) has to say about arriving home. Below, I summarize and reflect on the concept of "finding our true home" discussed in this Plum Village (PV) orientation talk. The talk was offered as part of a retreat held in October 2013 with Thich Nhat Hanh at Deer Park Monastery in Escondido, California.
The retreat was a 5-day-long residential retreat where all the participants stayed on site at Deer Park. During each day of the retreat, the schedule included a 1-2 hour talk as well as a plethora of mindfulness practices to learn to apply mindfulness during daily activities like walking, eating, speaking, listening, etc.
The talks are called "dharma talks". Dharma is a Sanskrit word that in this context is a term for the body of teachings that undergird PV practice. This dharma talk was offered in the evening of the first day and was a chance to introduce the participants to Plum Village practice and the topic of the retreat: "Finding Our True Home".
I think it is a great introduction to Plum Village mindfulness practice for anyone new to it, and for a seasoned practitioner, it's a great way to return to the foundations. Below is a brief outline of the talk:
0:00-18:15 – Intro to the topic of the retreat and the foundations of Plum Village mindfulness theory and practice by Thich Nhat Hanh
18:15-51:00 – Namo Avalokiteshvaraya – Chant of Compassion (Thay introduces the practice of listening to this chant and then the monastic sangha chants with Thay at the centre)
51:00-2:03:44 – Two monastics (Brother Phap Dung and Sister Dang Nghiem, both senior monastics and Dharma Teachers) expand on the idea of finding our true home and discuss practical ways to engage with mindfulness practices
For this post, I'll focus on the topic of finding our true home, introduced by Thay at the start, and further articulated by the two monastic dharma teachers in the latter half of the talk.
Before I get into the content of the talk, let's start with a bit about why I chose this topic and this specific talk.
Why find home?
I was recently chatting with a friend who told me that increasingly he has noticed he feels uneasy doing any task during his day without something playing in the background (e.g. music, a podcast, a tv show, etc). From the conversation that followed, it was clear that he was interested in looking deeper into this. He knew that it indicated he might have some transforming to do, but he didn't know how or where to start.
For myself, in moments of downtime I often find myself reaching for my phone, a book, or anything else to distract me. In a week when I allow this instinct to drive how I spend my spare time, never enjoying moments of stillness, I notice that I am less at ease.
I think this kind of habitual consumption that both my friend and I recognize in ourselves is a mechanism to avoid coming home to ourselves. For me, I think that part of me wants to avoid spending time with my inner world. I have a fear that suffering will overwhelm me, so my subconscious tries to block it out and cover it up with consumption in the hope that it will go away. For me, stress and anxiety rarely resolve with this strategy…
This is at the heart of why I've started this blog – to document what is helping me learn the art of arriving home within myself as a way to find more moments of rest and stillness in my life. This is all in support of nourishing joy and happiness, and at the same time taking care of the suffering within. I think that articulating my journey by writing this blog will be a transformational process for me, and I hope you will find it useful in your life too.
Our Teachers
Next, I'll briefly introduce the teachers from the dharma talk.
If you'd like an introduction to who Thich Nhat Hanh is, I'd actually encourage you to simply check out his bio on the Plum Village website. Below is a photo of Thay in the dharma hall of Upper Hamlet, the main PV monastery: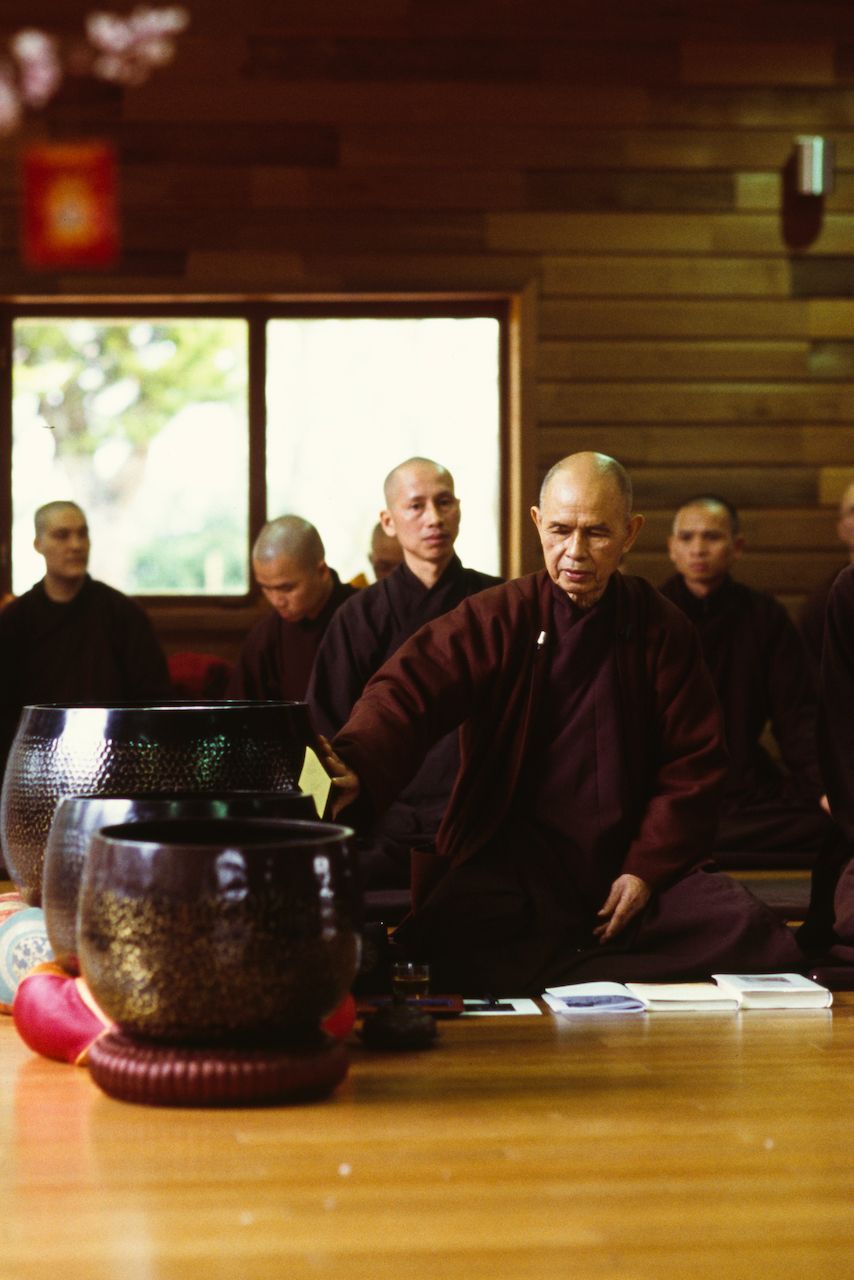 Brother Phap Dung (pronounced fap yoong) and Sister Dang Nghiem (Sister D for short) give the 2nd half of the talk. They are wonderful humans that I have had the pleasure of spending a decent amount of time with in monasteries and on teaching tours around the world.
Phap Dung is a senior PV dharma teacher. He is a former architect, was the abbot of Deer Park Monastery for many years, and is a steady presence in the community. I had the pleasure of being on a teaching tour with him as part of a small group of monastics and lay friends in India in 2012. While on tour, I was mostly filming (see this short documentary), but one day Phap Dung invited me to offer the deep relaxation practice (which usually includes some singing at the end) for our classroom of teens. When I started singing, one of the teens started, and couldn't stop, laughing – I'll always remember the kind and gentle way Phap Dung offered me singing tips in the high school hallway afterwards 🙂.
Sister D was a medical doctor before ordaining as a nun with Plum Village and she brings a wealth of knowledge and experience to her teaching. On that same tour in India, towards the end of our trip, Sister D devoted some time with each of us lay friends for a one-on-one consultation. At the end of it, she held my face in her two hands, looked into my eyes, and spoke a few words that communicated to me that she had deeply seen me. I don't remember the actual words, but the feeling of her loving and fierce presence stays with me.
Below is a photo from the tour in India, 2012: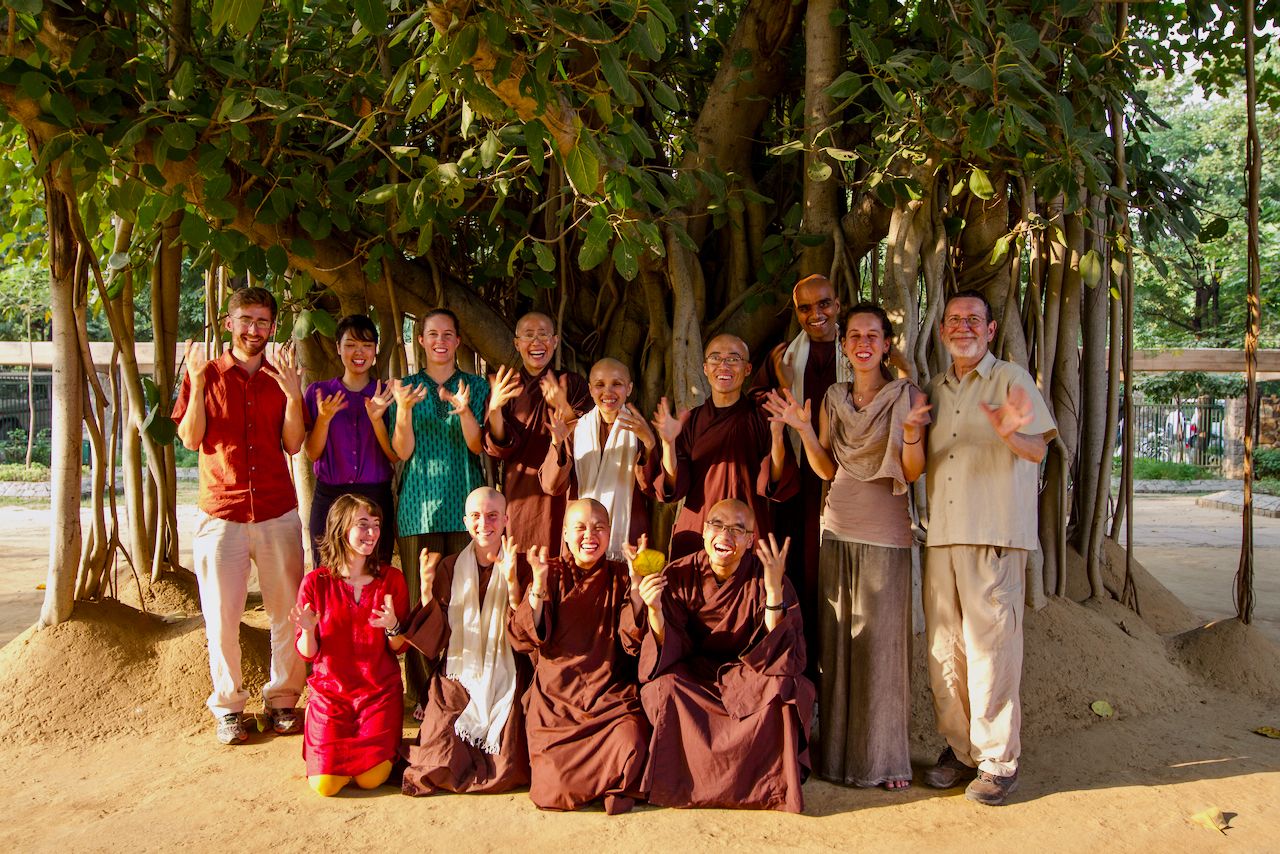 All three of these humans have deeply offered themselves to others while on their own journeys of practice and discovery. Being in each of their presence has often felt to me like a kind of home, a place of safety and of witnessing, and I have a feeling that is true for countless others too.
Defining "Home"
Weaved throughout the talk, Thay, Sister D and Phap Dung offer an antidote to the busyness of life, to the non-stop rushing/consuming habit that is often present for me and so many others.
Thay first offers some rationale for why he practices mindfulness (7min 20sec):
Life is very precious, and I would like to profit from every moment
I am fascinated by the word "profit". The word feels out of place in a zen setting, but I think he used it very purposefully. He invites us to reconsider our personal definition of profit and how we spend each moment of our daily life.
He offers the following poem to pair with our breathing:
Breathing in, I know I am alive
Breathing out, I smile to life inside of and around me
We can breathe in, know that we are alive, and celebrate this fact (we can "profit" from this awareness…). We can come home to ourselves, and smile to all life and everything that comes with it. In this, I hear both a celebration and a wish to live each moment deeply and in touch with our inner and outer world, even when parts of that world are challenging to engage with. This is in support of both living happily and transforming the difficulty within.
I feel like I understand this concept at an intellectual level… Yes, I agree that I need to "come home" to myself – that makes sense, right? I think at times I have felt that I am fully capable of doing this, but lately when I look deeply, I start to question this. Am I sure? Does "my home" truly feel like a safe and comfortable place to dwell? Do I truly understand myself and those around me? Can I honestly smile to everything? Or are there parts of myself and my world that I wish weren't there, that I resist?
Finding our true home
We might be tempted when we think of the concept of a "true home" to imagine the place where we grew up or maybe where we currently reside, and this could certainly be one facet of the idea. Sister D and Phap Dung weave together a much more complex tapestry.
Sister D expanded the concept of home to include any environment that is:
a place of healing and safety
A place where you can feel safe to close your eyes and breathe. It's an environment that is cared for, where peace is practiced, and it can be a person or a place. She said that in the Vietnamese language, spouses are referred to as "my home" and that the word for soulmate is "tri kỷ", which means "to know/to remember/to master oneself". She goes on to say that with the practice of mindfulness, we can learn to know ourselves, to remember to be aware of what we are putting into our thoughts and consciousness. We can take care of our "home" that is both physical (in our body) and non-physical (the person / place we find healing and safety with).
She instructs us to become aware of our body, feelings, thoughts, perceptions, and consciousness (in Buddhism these are The Five Aggregates). One way to begin to practice this, and develop the energy of mindfulness, is to come home to our breathing.
Mindful Breathing
Sister D described the quality of our breath as reflective of our state of mind. She said:
Getting to know our breathing patterns is getting to know our mind
She described the mind as something that can be elusive and abstract. On the other hand, the breath is something very concrete and it can bring us home to ourselves. We can practice becoming aware of the in and out breath. In this, we can notice at what level the breath is most present – nose/mouth, throat, chest, or belly – and this can be a window into the state of our mind. When we are more stressed, we may breathe more in throat/chest and when we are more relaxed, we may find more awareness of breath in the belly.
In the moment that we become aware of our breathing, we stop our thinking and allow the mind to dwell in the sensation of breathing. She says that through this practice, we can hear the "music of our body", which is often very pleasant. She also says that by doing this we might notice that our mind has been travelling far away and that we have neglected our home. We can breathe with that, recognize it and smile. In one instant, we can come home and touch spaciousness and clarity. By coming home in this way, we can see more clearly.
One comment here that I'd like to offer on mindfulness of breathing: I'm aware that for some folks, bringing their attention to the sensation of breathing is not a safe or comfortable place to dwell. Depending on our previous life experiences and our relationship with breathing and the body, it may be beneficial to choose a different anchor for attention. So if this might be you, go slowly and seek the guidance of a mindfulness teacher if you are struggling. I'll speak more on trauma informed mindfulness in another post in the future.
Training Our Quality Of Being
Brother Phap Dung is a storyteller through and through, and he started his part of the talk by describing the history of Deer Park Monastery in California. Before Plum Village purchased the land, it was a place where the military practiced firing guns, so the vegetation was neglected and the ground was strewn with bullet shells. Once Plum Village purchased it, the community began to care for it, removing the debris and tending to the landscape. Slowly, bit by bit, the landscape became more and more vibrant. In telling this story, Phap Dung reminds us that we can nourish our inner environment, just like we might tend to our physical environment, to become more vibrant. He said:
We train our quality of being in every moment
Our inner home may have become quite messy with a lot of thinking, ideas, and running. By tending to what is there, with kindness and compassion, our inner home can be a place of refuge.
Throughout the rest of the dharma talk, Phap Dung and Sister D went on to articulate many practices to care for our inner home beyond mindful breathing. They got practical with how to care for our inner home. Below I'll briefly touch on sitting meditation and walking meditation, and in future posts, I'll return to others.
Sitting and walking
Thich Nhat Hanh has shared over the years that he trained himself in his life to become great at two things: sitting and walking (for more of this story, check out: The Way Out Is In). Sitting and walking seem like such simple tasks that we all "know" how to do, and yet I wonder what the answer would be when we ask ourselves the question:
Do I profit from every moment of sitting and walking throughout my day?
I have a feeling that, more often than not, Thay profited from his sitting and walking. He so often reminded us that every moment is an opportunity, and sitting and walking meditation are both practices that help us to nourish the habit of coming home to ourselves.
If we sit and stop our running mind, we can allow the mind to rest in the body and in the breathing. We can make space to look deeply into ourselves in order to transform. We can nourish our happiness and see the roots of difficulty so that we can know what to do. Likewise, we can do the same while walking – allowing our mind to rest in the awareness of our steps, practicing being at home with our body during a task that we so frequently do mindlessly. As we practice diligently to come home to ourselves, we might just have a few "ah ha" moments. We might find an answer to what we have been looking for in precisely the moment we are not searching for it at all.
We can train to come home to ourselves and to our environment. You do not need to be a zen master to do this, you can start right away.
Onwards
So, while this blog may be full of words and ideas, I would invite you, the reader, to spend some time reflecting on what activities in your day might you spend arriving home. Might you consider making some time in your day for an appointment with yourself. Try a bit of mindful sitting or walking and let me know how it goes!
In future posts, I'll continue to explore the foundational Plum Village practices in more depth, but for now – au revoir 🙂
As always, feel free to subscribe and leave a comment, I'd love to connect with you.
---
Recommendations to continue this journey: