Peace Is Every Step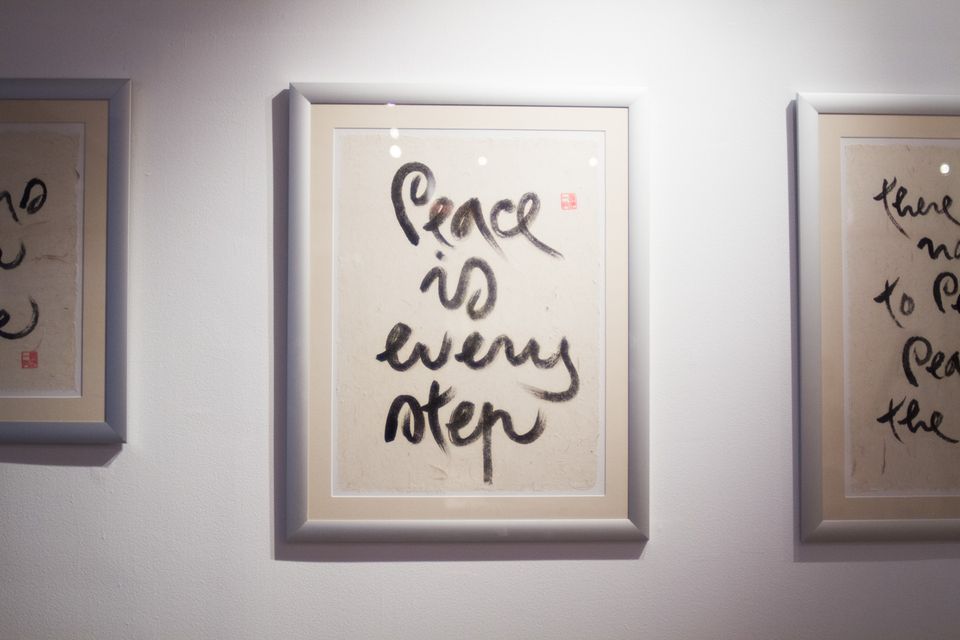 May you see this post and breathe, dear friend. "Peace is every step" is a classic calligraphy by Thich Nhat Hanh, and it is also the name of one of his most well-known books, Peace Is Every Step.
In this post, I'll share briefly about this calligraphy, Nhat Hanh's book of the same name, and what they mean to me. I'll also share some images that I took (plus a bonus video) from a show where Thich Nhat Hanh exhibited his calligraphy, along with his Plum Village monastics, in New York City at ABC Home on September 9, 2013.
Before you read on, dear reader, please take a moment to pause and enjoy contemplating this calligraphy. You may see something, in the art and words, that no one has seen before.
The Book: Peace Is Every Step
This was the first book that I read of Thich Nhat Hanh's (who we call Thay for short). To be honest, I'm not sure how it was recommended to me. I have a distant memory that someone told me, "if you're going to start somewhere, this is it." It was exactly right for me, and it continues to hit every time I open it to a random page.
It's split up into short sections, sometimes only a page long. I find that I often only read one section at a time. The words seem simple at the surface, and yet they touch something very deep. When I was reading it back in 2011, I would read one section in the morning upon waking up and then practice sitting meditation. If you, dear reader, choose to do something similar, I would encourage you to practice letting go of the words on an intellectual level and allow them to sink in, reflecting on how they make you feel in your body.
Frequently when I read Thay's work, I feel a sense of warmth, relaxation, and calm. He constantly touches a seed of hope in me. In moments of sadness or frustration, I can touch that there is a way out. In moments of happiness and ease, I can learn to savour the moment.
This book teaches me to hope over and over, from front cover to back.
Consuming Calligraphy
Calligraphy can nourish my soul in the same way that Thay's books do. I am a very visual person and the art of calligraphy is not only beautiful in its visual language, somehow it communicates a feeling to me.
The layout of the letters and words can inspire stillness. There is such simplicity in their presentation. My visual attention always has a detail to savour in. My eyes explore the details and texture, flowing throughout the piece, in the same way that my attention lazily explores a beautiful painting or a photograph. Going to art galleries is a thing of my childhood, and exploring art for the simple purpose of exploring art somehow makes my inner child sing.
I can allow myself to explore the details and when I broaden my attention to include the entire piece, the message has a chance to sink in. I can take in the words on the page as Dharma.
Often the short poems that are the calligraphy, seem quite understandable at an intellectual level, and yet when I try to put them into practice, it's another story.
Peace is every step as a practice from Thich Nhat Hanh
On the wall in the featured photo of this post, directly next to the calligraphy "Peace Is Every Step" is the calligraphy, "There is no way to peace, peace is the way." These two go very well together (see see my Flickr album from the event to see an image of the second calligraphy).
From my understanding, the intellectual idea is that by letting go of the end goal of peace, we can experience peace in every step. There is no way to peace if we are fighting for peace in anger and frustration. If our way of being is peaceful, it allows us to both feel peace within and transmit the energy of peace to others. This is what allows us to truly listen to each other to understand what is needed to bring about peace and reconciliation.
I think this is, in part, an insight from Thay's experience with protesting war in Vietnam. He wanted to practice being both non-violent with others and non-violent within himself. Peace is an expression of non-violence. One concrete example, to illustrate Thay's belief in this, was his connection with Dr. Martin Luther King, Jr. in the 1960s (for more on this, see my earlier post with some history of the term Applied Mindfulness).
My personal practice
It is in part because of knowing Thich Nhat Hanh's history that I can have so much trust in his insight. I think to myself, "dang, if he went through all of that and came away with this realization, it's probably one that will be helpful."

And so, it is one that I try to remember to practice with. I remember that in every moment, I can touch peace and stillness within myself. It's possible, but that doesn't always mean I am capable. I can do my best to set down my worries and anxiety, knowing that I can always pick them back up as needed.
Even for just a moment, I can touch peace.
I can apply this insight during my walking meditation, and try to literally touch peace within myself with every step. I can practice this during every step of sitting meditation. I can practice this during each step of listening and speaking in conversation. I can practice inviting this quality up, calming my mind and body, and I touch the feeling of what mindfulness is for me.
Putting the insight into practice, however, is an entirely different experience to intellectually understanding it. I am so quickly drawn into replaying some past event or imagining possible permutations of the future. My brain is wired to do everything it can to make me feel safe in the future, and yet in chewing on that, I so often do not feel peace in the present moment. Rather than planning my next workday at 11pm at night, might it be more restful to simply be peaceful and at ease?
This is the essence of the practice for me right now. I am developing the ability to notice what is occurring within myself and around me, and I am inclining my speech, thoughts, and actions towards peacefulness. In doing this, I try to let go of the end goal of being peaceful (easier said than done), and I try to see what, in this very moment, is a peaceful step that I can take right now.
In this way, I build a future of peace in the very here and now.
Images from Thay's calligraphy exhibition in 2013
I feel very lucky to be able to say that I photographed this exhibition where Thich Nhat Hanh displayed a collection of his calligraphy, demonstrated writing a few, and led meditation practices for a small group of people. The event took place at ABC Home in New York City on September 9, 2013. Throughout, he was surrounded by his Plum Village monastics. This group included many that I feel lucky to refer to as my friend today.
You will see below that I have more photos of the set-up (before Thich Nhat Hanh arrived) than of the actual event. During the event, I was focused on taking video. To me, though, the set-up is equally powerful as the event. I observed everyone working mindfully to prepare the space. Brother Pháp Nguyện curated the calligraphy on the walls, and a number of sisters joyfully prepared flowers. I still remember the energy of that room.
The energy of the room was peace.
My photos from the event
Brother Pháp Nguyện, who was one of Thich Nhat Hanh's attendants at the time, was very gracious to allow me to photograph as they worked. I remember him flowing throughout the space with a lightness and determination. It was a happy moment.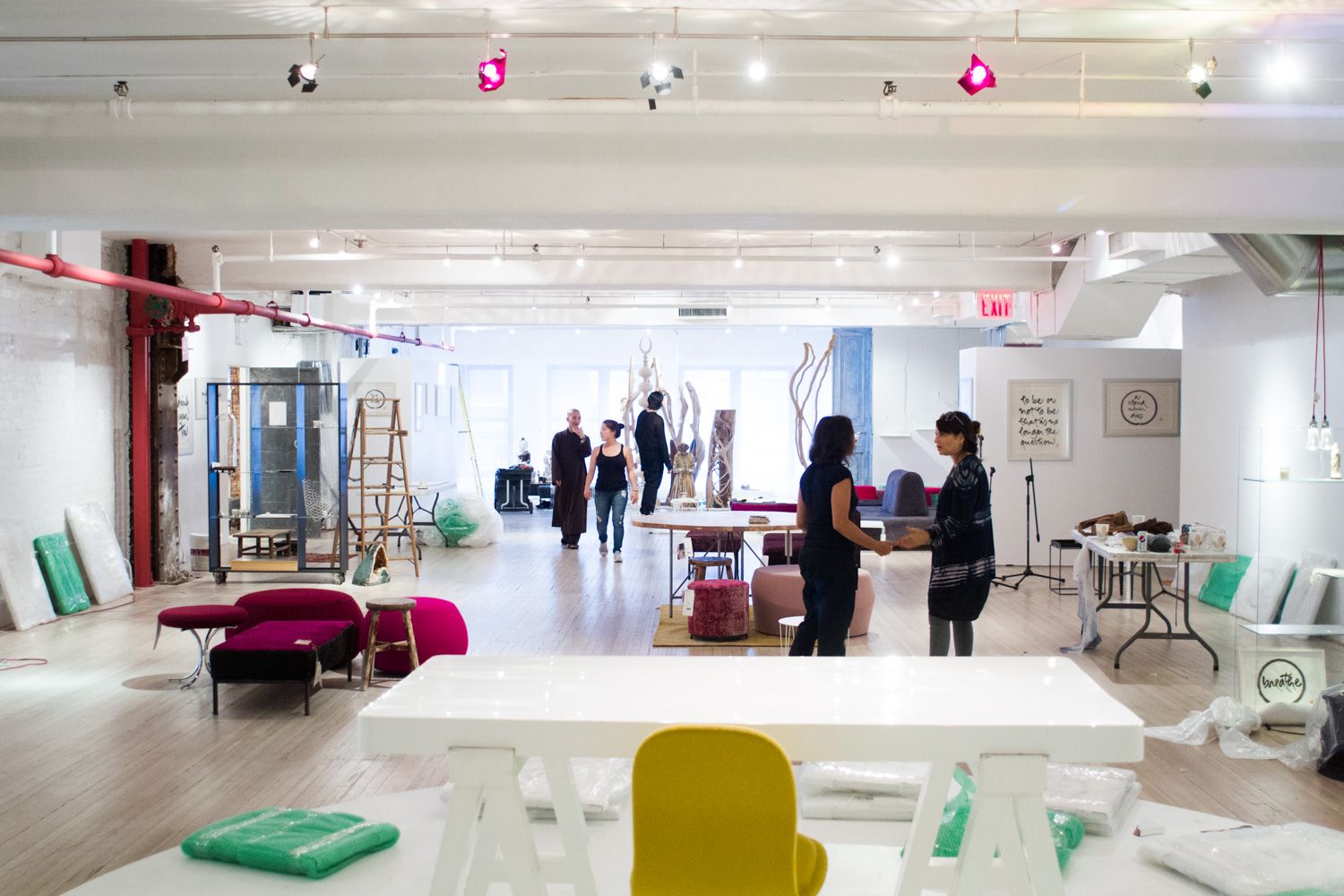 And here are some photos of Thich Nhat Hanh during the event that evening.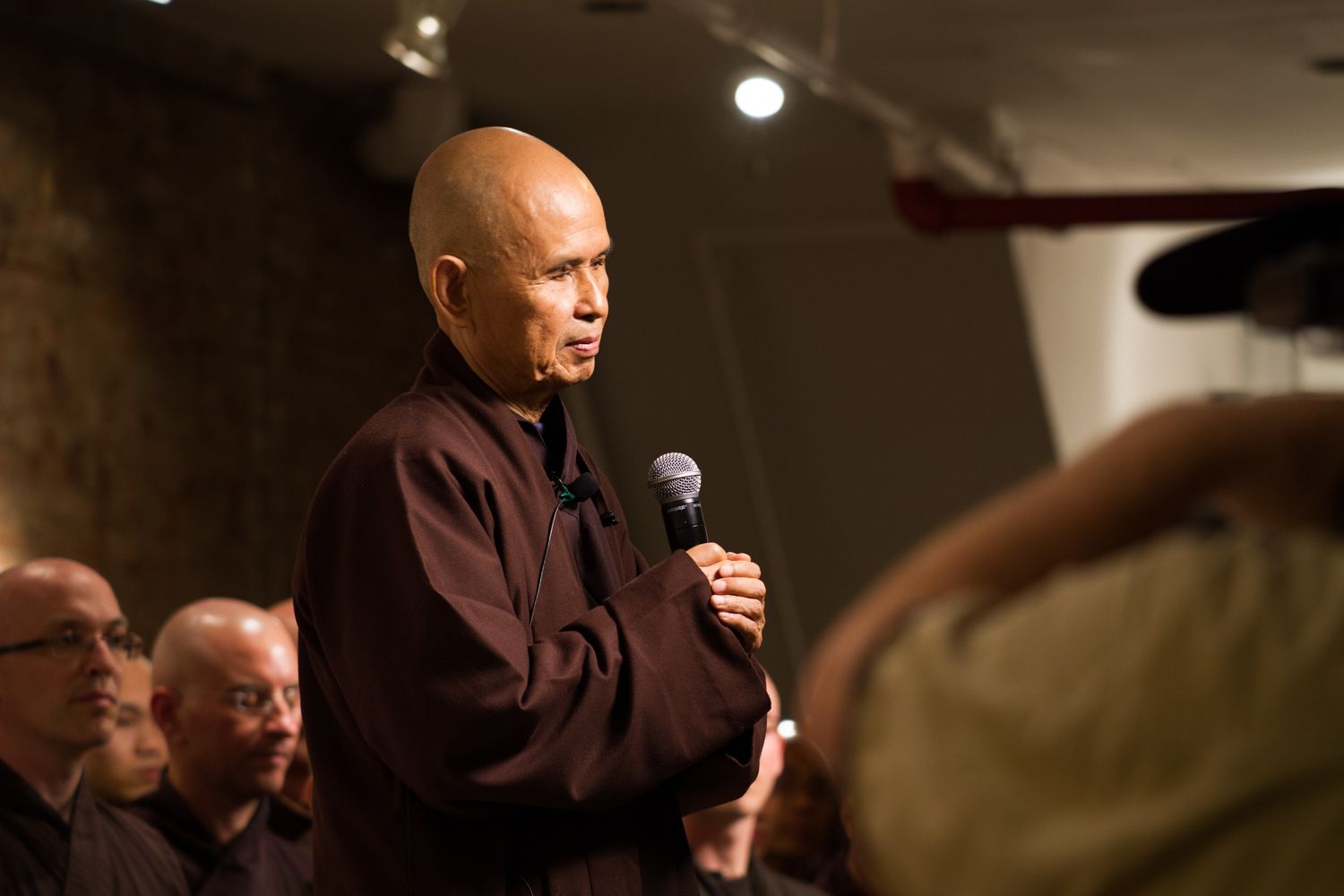 To see the images laid out on my photography website, go here. For high-resolution copies, and a few more photos not included above, see my Flickr album.
The video produced from the event
Video taken during this event on Sep 9, 2013 is used as b-roll in the video below. The video below was edited around the time of Thich Nhat Hanh's passing in 2022. It includes some footage from the 2013 event, other b-roll, and an interview with Brother Phap Huu (that, I think, was filmed in 2022) in Thich Nhat Hanh's hut in Upper Hamlet, Plum Village, France.
I was one of 3 or 4 camera people filming at the 2013 event, all in coordination with each other. The footage was captured for another project, but I don't think the footage was ever used elsewhere, I'm not sure. Happily, I archived the raw video material from everyone's cameras (unfortunately, no high-quality audio), and I was able to send it to the Plum Village monastics. I'm glad it was of use for this video.
Please enjoy.
---
To learn more about Thich Nhat Hanh's calligraphy, see this page on the Plum Village website.
Below are two episodes of The Way Out Is In Podcast that are relevant to this post:
For all of the above photos in one place, please see:
---
Reminder: the resources page is always here for you. It is where I collect all the links, resources, and references from every post.
As always, please leave a comment or message me. I'd love to hear from you.