We stay ready, so we don't have to get ready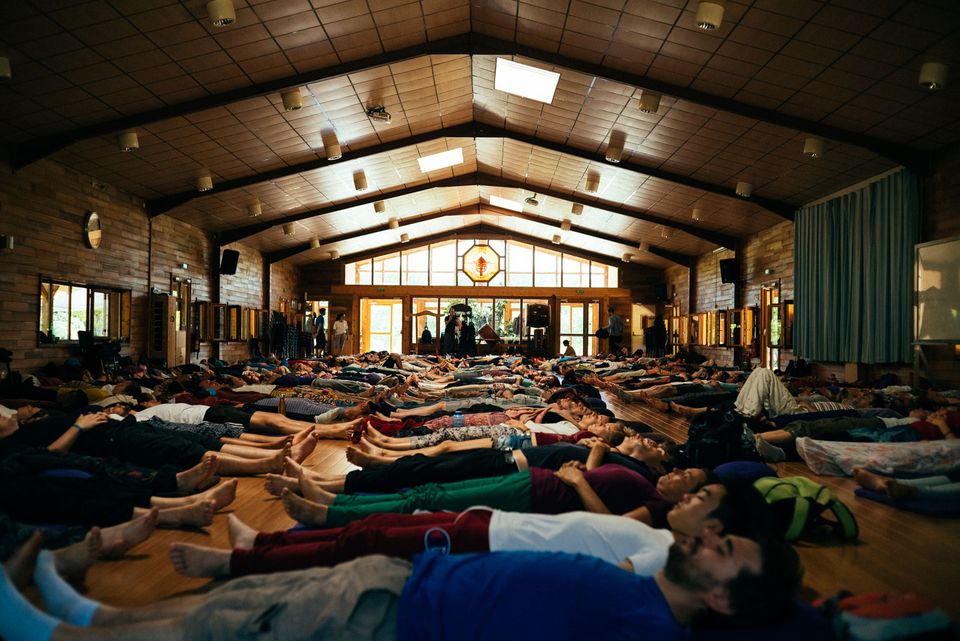 I first heard the line, "we stay ready, so we don't have to get ready," in a talk almost a year ago, and it has stuck with me. It made me smile at the time, and it continues to bring me joy. It's such a clear expression of why I practice mindfulness and meditation.
I heard it from Brother Phap Trien, a zen monk in the Plum Village tradition, during a talk given in Upper Hamlet, Plum Village, France. The talk is titled, "Can We Love our Loneliness?" It was given on April 4, 2022 by Br. Phap Trien and Br. Phap Bieu. Br. Phap Trien currently resides at Magnolia Grove Meditation Practice Centre. He grew up in the Southern United States, and even though I'm from New York State, whenever I've hung out with him, it feels like I'm home. He has an open heart, a kind and gentle way of being, and the cadence of his speech and mannerisms somehow just makes me feel at ease.
In the talk, Br. Phap Trien and Br. Phap Bieu trade the mic back and forth and discuss developing a connection with ourselves, each other, and Mother Earth. It's a lovely talk. I watched it back in April 2022, and watching it again this last week, it was just as nourishing.
Meditation practice is constant development
Towards the end of the talk (1:13:45), Br. Phap Trien slides in the line that is the title of this post,
"We stay ready, so we don't have to get ready."
He reflects that this was a teaching given to him by a sports coach when he was young, and that he continues to practice it to this day. He thinks of it as a reference to diligence. By having a diligent and regular meditation practice, we are constantly developing the capacity to greet difficulty when it comes. We are always ready.
We know that difficulty, challenge, stress, and suffering will come, and so in every moment we accumulate the solidity and freshness needed to address it.
Even a few mindful breaths or a few mindful steps, contribute to our overall ability to find what is needed in a moment of challenge.
Many of the Plum Village practices and concepts, that make up Applied Mindfulness, are skillful ways of developing our capacity. We can ask ourselves, what are we developing our capacity for? We develop it so that we can orient ourselves in the direction of happiness, love, compassion, inclusivity, and understanding. We do it to orient ourselves towards thinking, acting, and speaking in accordance with our deepest values.
I invite you, dear reader, to reflect on your deepest values. What might you want to orient yourself towards?
When I look into my values, I can see a common thread that was instilled in me at a young age. To express it, I'll borrow some language that heard from Dr. Larry Ward in a talk he gave a few years ago (not sure of the exact one). He said something along the lines of,
"I want to be loved, and I want to be a lover."
In this way, I hope to offer love both outwards and inwards. Writing this blog is an expression of my love, both for myself and for all those out there who might be reading.
In this way, for me, writing this blog is a practice of staying ready. I hope, dear reader, that reading this blog can point towards some practical ways that support you to "be ready" for the challenges you are facing now and in the future.
We're talking about practice
In the end, we're talking about practice.
Like Brother Phap Trien, I grew up playing sports. I am also trained as a physical therapist. So, the idea of practicing something, to get better at it and to "be ready" for the big game, is deeply ingrained in me.
I don't expect someone who is learning to throw a football to be able to throw a perfect spiral. I don't expect someone to be able to execute a beautiful pirouette the first time they're taught to dance. I do, however, have confidence that with time and diligent practice, both of those skills can be learned and improved upon.
We can improve ourselves in sport and dance (and any other skill) with practice. Mindfulness and meditation are the same.
Physical fitness was a value deeply ingrained in me as a child in gym class. As I sit here now, I wonder why we didn't have a mental fitness class. Might it be equally important to learn how to love ourselves, how to have compassion for others, and how to develop the ability to be happy?
"Staying ready" during great difficulty
I was recently speaking with a VP in healthcare in Toronto. There is great challenge in the healthcare industry locally and beyond right now, and there are many conditions that have brought us here. The effects of the pandemic are reverberating throughout the system. Systemic challenges and burnout, that were present before the pandemic, have been exacerbated in the last few years. We face this on top of whatever challenges we have faced at home during this time.
So, some might ask the question:
What do we do in a moment when we are already burnt out?
The first step is to recognize where we are at. We may have a habit of sticking our head in the sand and attempting to ignore what is happening (I know I do). Maybe that was something that worked before the pandemic, and now it's no longer functional. Perhaps at some other time in our lives, we have gone through great difficulty and seen that our previous ways of coping were no longer effective.
In those moments, we may not feel like we are "ready." This is very natural.
I constantly see that I'm not quite "ready" for many moments of difficulty that I face. I see this in small and in big ways. I might have a response to myself or someone else that is not quite in line with my deepest values. Perhaps I say something that I regret later. I can also sometimes feel overwhelmed when facing deep suffering in myself or in another.
All these moments are moments of simply being human. Noticing them is hopeful.
When I notice the limitations of my capacity, it can serve as motivation to continue to practice developing my capacity for the future. Just like learning to throw a football takes practice, so does learning to engage with suffering and difficulty.
We practice, it accumulates, we practice more, and we develop the ability to "stay ready," so that in the future we don't have to get ready.
This is not to say that by staying ready, we never experience stress, anxiety, or difficulty.
We "stay ready" to know how to meet that difficulty. We "stay ready" so that we know how to transform it when it comes. We can say, "ah, hello anger, I know you, let's hang out a bit." In this way,
We are ready to practice the art of transformation and healing in every moment.
There might be some difficulties in daily life that we can prepare for. For example, maybe we know that we are about to enter a difficult conversation, so we can spend some time preparing.
At other times, we encounter difficulty that comes as a surprise. At that moment, we don't have time to prepare, but we can know that we have been practicing.
When I encounter something challenging, I can say to myself,
This is what I've trained for.
Br. Phap Trien says it well at 1:17:00,
I "see difficulties as an opportunity, I'm ready."
Application
Many of my previous posts point towards ways of practicing that I am currently engaging with so that I might "stay ready." In my post from last week, I talked about practicing to generate moments of child-like joy in my daily life, as a way to develop freshness and solidity. In the post before that, I wrote about making every step I take a moment of peace. These are each ways of practicing within myself.
Recognizing the humanity of each-other: a way of "staying ready"
There are also ways we can practice in relationship with others. Below, I share a story about an interpersonal practice that we can use every day to "stay ready." It's a practice that I (re)discovered as I was writing the introduction to Br. Phap Trien at the start of this post. As I reflected on what I would say in my introduction to him, I thought about a fun moment between us that, I thought, would be just a sentence or two at the start of the post. It grew into the section below as I realized it had a deeper connection to this post's topic.
Back in 2017, Elli and I went to Upper Hamlet, Plum Village, France for a meditation retreat for people aged 18-35. As we arrived, Br. Phap Trien, along with a few other monastics, greeted us. For whatever reason, Br. Phap Trien and I greeted each-other with a dap (a type of handshake greeting, discussed below).
This is not the usual way of greeting someone in PV. Usually, we greet each other with a simple bow or a smile (see this article about bowing for an explanation of the practice).
During our dap, my mind watched my body, like in slow motion, wondering, "Is this really what's happening right now?"
I think we both have the motor pattern of a dap deeply implanted in our brain from childhood, and that part just took over. I learned the dap in elementary school in Rochester, NY. It's not a way that I typically greet people now in my life, but for some reason, as we went to greet each other that day, conditions were sufficient for a dap to manifest.
Afterwards, we were like, "whoa, I haven't done that in a long time." It was a happy moment.
The dap: a brief note on its history & meaning
As I was writing this post, I thought there might be readers who didn't know what a dap is, and so naturally I turned to YouTube to find an explanation. Here is a quick 30sec video showing the kind of dap that we did. Happily, my YouTube dive, searching for "what is a dap handshake," also allowed me to learn more about the history of the dap.
This video is a short 7-minute documentary discussing the history of the dap. It was produced in association with Spike Lee's film, Da 5 Bloods, and it's 7 minutes well spent.
Before watching it, I hadn't known that the dap is deeply rooted in African American culture in the US and that it was widely used during the Civil rights movement and the Vietnam War. As I reflect now, and look back on who I learned it from, I'm sure it was transmitted to me by African American friends in my elementary school.
I learned in the video that dap stands for "dignity and pride." It has a history of recognizing the humanity in each-other, born during a time in America when African American humanity was not recognized as it should have been (and this continues in many ways).
Below are a few quotes from the video:
"It's a solid way of saying, how are you? I love you, we are brothers." (4:40).
"It has to come from a place of love, of solidarity, of recognition of humanity." (6:50)
The fact that Br. Phap Trien and I dapped at a Plum Village meditation practice centre, seems like a bit of culture coming full circle. Thich Nhat Hanh connected with Dr. Martin Luther King Jr. in the 1960s as they both spoke out to advocate for the recognition of the shared humanity of all people (to simplify things greatly…). I'm confident that Br. Phap Trien and I didn't fully recognize the history of the dap at that moment of greeting each other, but I do think it was a moment of both us expressing our American roots and connection to African American culture.
Dapping and bowing
I think it is easy to see similarities between dapping and bowing to one another. In bowing as a greeting, we honour the seeds of love and goodness in ourselves and the other person. When we bow, similarly to the dap, we have the intention of recognizing our shared humanity and potential.
I'm grateful that I was randomly reflecting on my time with Br. Phap Trien, and that that lead to me learning about the commonality of the dap and the bow. What a beautiful and unexpected bit of learning for today.
I think that, whether it's a dap or a bow, recognizing the humanity and the possibility of love and goodness in myself the other person is a beautiful way of "staying ready" that can be practiced with another person regularly.
My wife and I bow to each other daily when we stand up from our evening sitting meditation. This means that everyday I touch this shared humanity in myself and in her. It's a powerful reminder, especially on a day when we might have had some irritation between us 😂.
Invitation for practice
Today's featured image is of a guided deep relaxation in the Upper Hamlet meditation from that retreat in 2017 where I dapped Br. Phap Trien. In the photo, we are all practicing "napping meditation," relaxing our body and mind so that we can develop our capacity to "be ready."
I invite you, dear reader, to reflect on what might be a practice to develop your ability to "be ready" the next time you need to draw upon your inner resources.
Maybe you can generate some child-like joy daily, perhaps there is a way in which you can nourish peace in every step, and potentially you can even find something like a dap or bow to practice with a friend.
---
Reminder: the resources page is always here for you. It is where I collect all the links, resources, and references from every post.
For those that are reading this that might not be subscribed, please subscribe! Knowing that there are folks out there reading helps motivate me to continue.
As always, please leave a comment or message me. I'd love to hear from you 🙂.